National Team In Ireland
The national team represented by competitors, coaches & officials for NSW, QLD, Vic & WA headed to Ireland for the World Championships. The excitement for many first time competitors was growing as we set off for Ireland from across the country.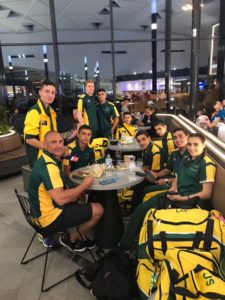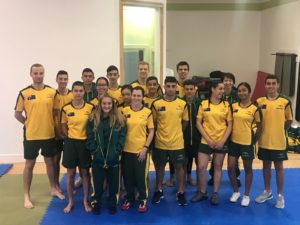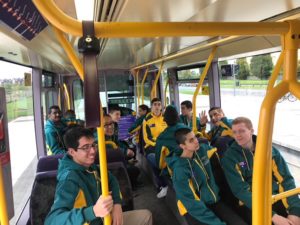 Competition was going to be tough with the world's best gathering for this event. Patterns events started the competition on the first day, with the level of competition the highest of any ITF group with most divisions having 35 plus competitors and last Worlds winner and vis in attendance competition was tough. All Aussies giving there best with most going out in the first round.
1st Degree Patterns
Teresa Le going down to Germany in the second round.
Richelle Shamrock, Jacob Khadi and Charle Dagher going down in the first round.
2nd Degree Patterns
Jemima Hodge going down to Russia in the second round.
3rd Degree patterns
Samuel Murray going down to Finland in the 3rd round.
Michael Byrnes going down to Netherlands in second round.
Sparring
First round loses to Oxana Gorskina v's Poland , Paul Wehbe v's Russia, Brooke Ryan v's Argentina, Matthew Travieso v's Russia, James Sarkis v's Ireland, Corey Massoud v's USA, Leon Sejranovic v's Belorussia & Jacob Khadi v's Romania
Charlie Dagher at his first World championships winning against Romania & Canada but going down to Spain in the third round missing out on a medal with Spain finishing runner up.
Jemima Hodge winning against Chile going down in the second round to USA
Samuel Murray winning against Honduras going down to Ukraine in the second round to eventual runner up and post junior world champion Ivan Gryshchuk.
Trent Hayden was in with a medal opportunity with wins against Finland & Argentina when in the final 30second of his winning match against Italy was injured an could not take the mat against New Zealand in the fourth round, New Zealand moved through and finished runner up.
First timer Kiara Naik competed well winning against Paraguay, Ireland but going down to Poland in the third round missing out on a medal.
Power Breaking
Adele Barnes-Cook missing breaks and not placing
Richelle Shamrock breaking all first breaks 12 points missing etra round to finish 9th from field of 49
Lani Massoud breaking both hand techniques missing sidekick to finish 19
Special Techniques
Richelle Shamrock making 1 from 3 techniques finishing 15th
Corer Massoud missing all his heights
Leon Sejranovic making 2 from 5 techniques finishing 13th
Trent Hayden making 2 from 5 techniques finishing 9th
Pre-arranged sparring Teams
Jemima Hodge and Samuel Murray going down in the first round the World Champions from New Zealand
Jacob Khadi and Charlie Dagher going down to Romania in the first round
Team Sparring
Junior Male team sparring going down to Scotland in the first round.
Umpires
First time international umpires Trevor McIntyre and Gerard Kelly representing Australia well showing that Australia has quality umpires.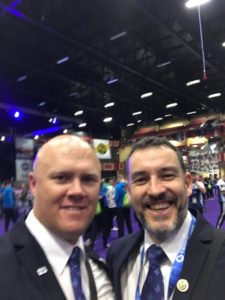 Mr Trevor McIntyre had the privilege of corner judging the final of team sparring Germany and Ireland on ring one at the gala night and closing ceremony.
Ring council and Mr Trevor McIntyre with Master Scott Downey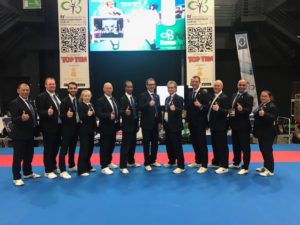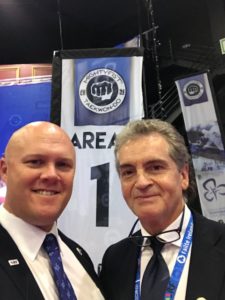 Master Michael Daher and Steve Sarkis attended as VIP guests